La Africanista junto con otras asociaciones africanas y feministas de Vitoria-Gasteiz, en los últimos años hemos participado conjuntamente en esta campaña internacional; a través de la cual, hemos difundido el trabajo que venimos realizando de refuerzo de capacidades, habilidades y visibilización de las desigualdades que padecen la mujer africana en paises como Guinea Conakry, a través del proyecto #WALODIRAL, promovido junto con la Asociación Haaly Pular de Vitoria, financiado por el Ayuntamiento de Vitoria-Gasteiz, en Senegal, mediante el proyecto de Red de abastecimiento de agua potable en la Comuna de Fanaye, región de San Luis, promovido junto con la asociación Mboolo Elkar de Vitoria, financiado por el Ayuntamiento de Vitoria-Gasteiz y AMVISA.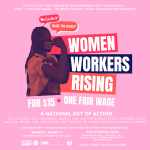 One Billion Rising activists are calling for RISING GARDENS, a global grassroots action for revival, restoration and transformation, making the connection between violence against women and destruction of the earth.
During the pandemic, activists are expanding their reach online as they simultaneously deepen their reach on the ground, doing community work to meet the needs of the moment. Rising Gardens actions amplify the intersectional issues of women's inequality and its impact on food insecurity, land ownership and the lack of access to healthcare, as well as the long term effects from extractive industries and the destruction of Mother Earth, and other basic rights, especially for frontline and marginalized communities.
Rising Gardens are a defiant creative call for revival, restoration, and transformation. We cultivate in many ways including: Seed distribution through seed banks and exchanges; Artistic creations in the forms of zero waste food art in Bangladesh; Artistic risings featuring speakers on ending violence against women and new ways to sustainably engage with the environment, performances, dancing, and more; Film festivals featuring a range of films on the topics that Rising Gardens uplifts; Planting trees to create community green spaces and planting community gardens; Collaborations with agricultural workers and gardeners; Educational workshops about gardening and education about herbal medicine and the effects of gardening to boost immunity; and actions to advance women's rights.
JOIN US! Create a RISING GARDENS Action in your community.
VISIT onebillionrising.org and Instagram.com/one_billion_rising for information, ideas & inspiration from activists around the globe.
Here are snapshots of some RISINGS happening over March, International Women's Month and in the lead up to Earth Day on 22 April:
| | |
| --- | --- |
| United States: Join #1BillionRising, #OneFairWage, Ultraviolet, Women's March, and RAISE: High Road Restaurants for a Day of Dance, Music, Action highlighting the need for a $15 minimum wage, the need for One Fair Wage and an end to gender based violence at work on Monday, 8 March. You can join in-person for a safely-distanced and masked event in your city, or feel free to join online! Visit onefairwage.com for details and locations. Democratic Republic of Congo: City of Joy's staff and the 90 residents will RISE at V World Farm and help workers in breeding and field work. Each staff member will commit to an action aimed to create life and to take care of nature. Other activities include Rising Gardens inspired radio programs and educational spots at City of Joy, field visits to plant seeds, secure plots of land, educate women in the area about the intersectional effects of deforestation and connections of abuse against women and abuse against Mother Earth, visits to the surrounding areas of Bukavu and invite the local children to City of Joy (due to schools being shut down because of Covid-19) and talk about environmental conservation. Bangladesh: One Billion Rising Activists in Bangladesh will be filming three different issues that rural women in Bangladesh are organizing around in April and amplifying ways that women's groups are creating their own alternatives where they are in control. The first issue will be taking back export based shrimp aquaculture fields from large scale and both politically and economically powerful and well connected exporters and start growing rice, jute and other agriculture crops. The second issue is about women starting their own seed banks of local varieties since large scale commercial interests have taken over people deciding what they will grow. The third issue they're filming will either be documenting women's groups taking over open water bodies, which are as per law to be used as common property, but have always been taken over by influential commercial interests. In some areas, activists will follow women pursuing organic farming in rural Bangladesh. France: On 8 April, activists will host a Zoom Rising entitled, RENCONTRES: ONE BILLION RISING, Women on the front lines of COVID: on the front lines of violence and at the forefront of transformation. More details to be announced. Mali: Activists in Mali will create digital advocacy weekly publications which address gender based violence in Mali every week through July. Rwanda: Activists will host an outreach program intended to talk to women after a couples seminar through testimonies, poems, plays, and mini exhibitions showing what they do for a living. Togo: In March, activists will have workshops with girls in order to help them start small businesses to let them gain financial independence so they will not be subjected to violence through their financial situation. Mozambique: On 8 March, One Billion Rising activists will visit domestic violence shelters and have a workshop about growing food and producing healthy herbs. In April, activists will visit the Nampula province of Mozambique to promote the use of a particular cosmetic plant to encourage women to produce in their gardens and feed into an existing market. South Africa: One Billion Rising activists will visit the West Coast, which was the hardest hit with Covid, and provide relief and support. Senegal: Thimote Badiane, One Billion Rising Senegal Coordinator, and other activists will be setting up the national program, collaborating with organizations such as La Maison Rose, The Federation/ Association of handicapped women, National Federation of Albinos of Senegal, The Casamance's Women, Women of Koungheul, and Senegalese Human Rights League in March. In April, One Billion Rising activists in Senegal will begin working with women for durable development as they help organize and sell between organizations and local productions. In June, there will be a webinar about the outcome of the campaign to help women in durable development in Senegal. Hong Kong: On 7 March, One Billion Rising activists of Hong Kong are hosting a virtual conversation and are rising in solidarity for sustainable livelihood, as the Covid-19 pandemic has brought women in Hong Kong and migrant workers a new set of challenges – increasing governmental restrictions, discrimination against migrant workers, displacement due to land being taken away, and food insecurity. Mexico: One Billion Rising Mexico will have an event on International Women's Day, with 20 different Spanish speaking leaders from Mexico, Chile, Argentina, Colombia, and Spain to RISE for an end to gender based violence. Ghana: In Ghana, One Billion Rising activists are RISING on 6 March at the Kokroko Electoral Area in Wenchi. They'll be addressing and talking about violence against women and the connection to violence against Mother Earth. Eswatini: OBR Eswatini is holding a virtual event on 5 March on the topic of the status of women in Eswatini, featuring Colani Hlatjwako, OBR Africa Regional Coordinator, Nonhlanhla Diamini, Executive Director of SWAGAA, Sibongile Mazibuko, President of NNLC, Vimbai Kapurura, Executive Director of Women Unlimited Eswatini. Philippines: On 7 March, in celebration of International Working Women's Day, One Billion Rising activists in Quezon City, Philippines are riding for their rights and spreading awareness of the campaign. | |
RISING GARDENS ART/POSTER EXHIBIT
The artwork coming in via the global coordinators and their teams is breathtaking. We've begun assembling the images coming in from all over the world into a new online photo exhibit. Take a peek here.
LEARN MORE HERE onebillionrising.org
READ ABOUT RISING GARDENS HERE: Rising Gardens
Follow One Billion Rising on Instagram @one_billion_rising
VIEW 2021 RISING GARDENS ARTWORK HERE